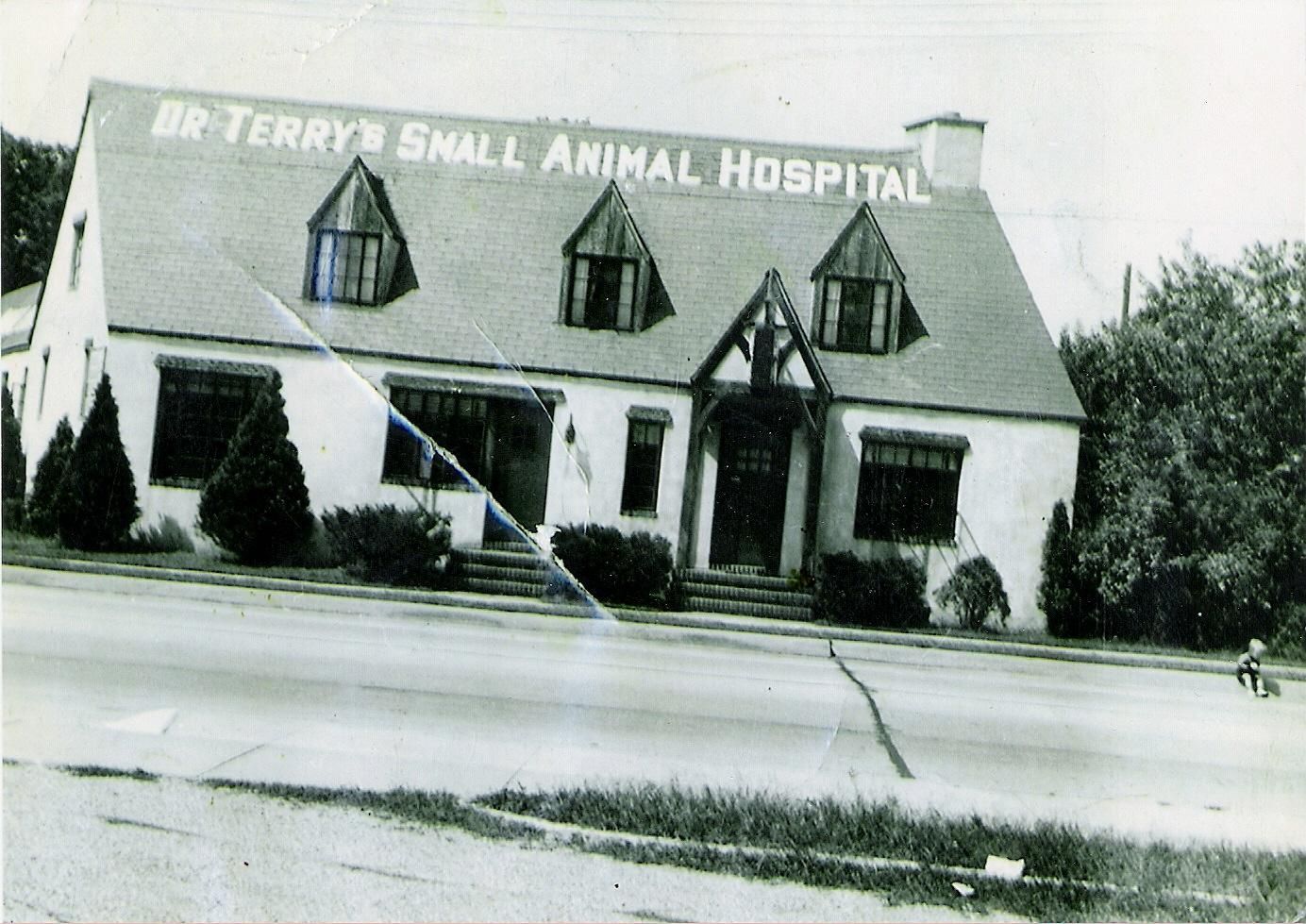 Over 75 years of Veterinary Excellence.

In 1933, Dr. John Wright Terry graduated from Cornell University, College of Veterinary Medicine. Before establishing the animal hospital we all visit warmly today, the original Dr. Terry first worked alongside Dr. Arthur Fallon in Auburn, New York.

Dr. Terry arrived on Long Island in 1940 & took over Dr. Lee's practice on the corner of Sunrise Highway & Long Beach Road. He called it "Dr. Terry's Animal Hospital."

In 1945, he renovated a fish market into the next veterinary clinic by relocating his hospital to the corner of N.Village Avenue & Washington Street in Rockville Centre, New York. This location is just down the street from where you find Terry Animal Hospital today. The animal hospital continued to grow so rapidly that within 6 years (1951), Dr. Terry decided to build a brand new hospital at its present location on the corner of Washington Street & Center Avenue.

Dr. John Terry cared for the practice until he suffered a stroke at the age of 51 in October of 1962. Mrs. Arline Terry held the practice together until her son, Dr. John M. Terry ("Jack") graduated from Cornell & took the practice over in 1966. Not only would this task be difficult for anyone, but Arline did so while raising all four children!

Dr. John M.Terry, affectionately known as "Jack" Terry graduated from Cornell in 1965. Dr. Jack Terry worked at Huntington Animal Hospital for Dr. Bud Wright for one year to learn everything he could before running a practice alone. He would go to Rockville Centre every Thursday & spend the day doing all of the scheduled surgeries.

Those first few years were very difficult. The practice was in trouble from not having a full-time owner/doctor for the past 3 years. Part-time doctors were in & out doing a good job but they each had their own practices to worry about. Dr. Jack Terry averaged 18 hours per day trying to build the practice alone. It was slow in the beginning but through his determination & work ethic, eventually grew the practice once again.

Within 3 more years (1969), the animal hospital was back on its feet & thriving. Business was expanding to the point where Dr. Jack Terry hired a second doctor but it did not go well. So, he went back to being the sole practitioner of "Dr.Terry's Animal Hospital." In 1974, Jack Terry redesigned & expanded the entire (current) hospital. The practice was growing so much that a second doctor was absolutely necessary. He got lucky when he found Dr. James Schroll who not only was a wonderful veterinarian (& still is!), but also a good friend to Dr. Jack Terry.

The practice continued to grow & eventually became one of the most successful four-doctor practices on Long Island.

In 1987, Dr. Jack Terry hired Dr. Paul Perrier (pronounced "like the water," [perry-ay']) who would eventually take over the practice in March of 1990. With respect to decades of hard work Drs. John & Jack Terry invested into the practice, Dr. Perrier decided to keep the name, Terry Animal Hospital. It is almost fitting, with history like this, that many loyal clients still confuse names & refer to Dr. Perrier as Dr. Terry.

The tradition continues...
Request An Appointment
Please Call (516) 764-2880 or Text (516) 652-4091 to request an appointment